Since my youth, I have been drawn to various forms of art, including music and poetry. However, it wasn't until I turned 27 that I discovered painting. At first, it was just a random experiment, but I found that I was able to capture vivid images based on my own impressions and emotions. Painting became an integral part of my life, allowing me to express myself in ways that words alone could never do. Through my art, I hope to inspire and touch people's souls.
I studied fine arts under the guidance of well-known artists, members of the Union of Artists of Ukraine Nikolay Grudinin and Oleksandr Presnyakov. In 2014, I took part in the exhibition of young artists, which was held in the House of Artists in Donetsk.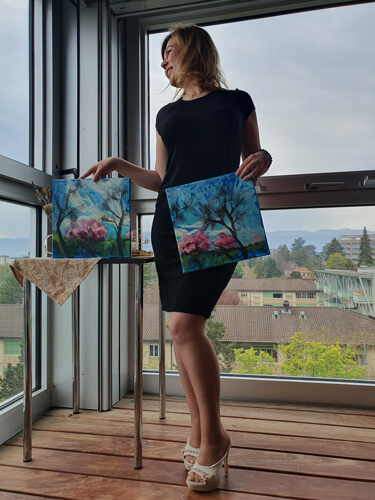 From 2016 to 2021, improved my skills at the Kyiv workshop EnjoyArtStudio under the guidance of Anastasia Merezhko and Maxim Rybalko. Since 2017, I have participated in many creative events in the city of Kyiv, including cooperation with the Mytets art gallery.
In 2022, due to the armed conflict in Ukraine, I have to move to Geneva, where I continue my creative path. More than one hundred and fifty works belong to my brush, a third of which are in private collections. The source of inspiration that awakens a burning desire to create is life itself in all its diversity of colors: beautiful nature, emotions, people, travels, vivid impressions.